Optical Kaos, The Beginning.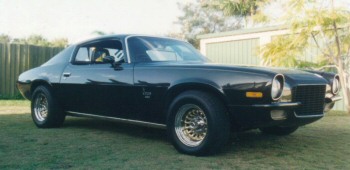 I started out in the motor industry where I worked for 17 years in the spare parts game and during those years my interests (obsession) were in cars and all forms of Motorsport. My pride and joy for about 10 years was my 1971 Chev Camaro that I drove to work everyday. I also played around with R/C cars and slot cars both circuit and drag racing but my main interest was in Drag Racing. I loved the way racecars and show cars looked in their appearance and strived to have my scale cars look as good and close as possible to the real thing. After building and painting many model cars, R/C cars and slot cars I found a guy that made stickers and thought I could get them custom made the way I wanted and use them as masks to do cool paint jobs with logo's, though still in very basic style's.

The guy doing them later moved to Sydney and of all the sign places I approached no one was interested in doing small graphics and words (some words were 4 mm high), the guy that was doing them for me originally suggested that my brother and I buy all the equipment and do them for ourselves and for others that wanted them, which we did in our spare time doing slot cars, R/C cars and small amounts of basic signage, vehicle graphics and race/import type logo's for friends and friends of friends etc.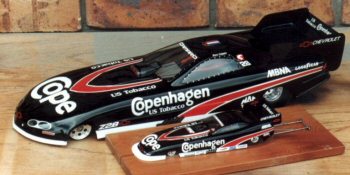 It got to the stage where so much of our my spare time was taken up working painting R/C cars both 1/10th and 1/5th scale and slot cars even doing some painting at work during my lunch hour. I have produced many concourse winning paint jobs for myself and other racers Australia wide with two cars going to the U.S, one which was presented to American Funny Car Racer Gary Densham, a lot of the owners liked them so much they didn't want them damaged so kept them for display only. Through some contacts in the hobby industry whom I had painted cars for previously I was approached by Larkham Motorsport during 2001 to paint 1/10th scale bodies and mount them to a chassis and wheels to use as display for sponsorship proposals, so when the artwork was given to me for the proposed scheme I would then replicate it on a 1/10th Ford R/C body and mount it on wheels and it would be used to show prospective sponsors a 3D model of how the car would look with their name and logo on it.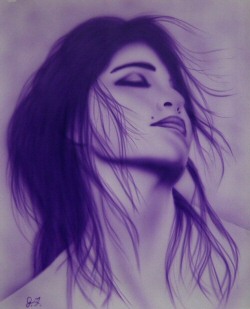 I then decided I wanted to do more refined automotive airbrush work so I did many courses in airbrushing, with a basic knowledge gained from airbrushing so many scale model cars and R/C cars I starting with a TAFE course then later a weekend workshop with Wayne Harrison of Advanced Airbrush and Murals and later again doing an advanced 2-week full time course with Tony Vowles of Airbrush Venturi. I then had the foundation to start doing more airbrushing with greater confidence and knowledge doing artwork that I had trouble believing that I had actually done, it was truly amazing and satisfying.
After doing a few more of the proposal R/C cars for Larkham Motorsport I kept in contact with the team and was asked at the beginning of the 2002 season if I would be interested in making and applying all the signage to the Racecar which I gladly took on. at the time I did this from home, based in Brisbane and when the close of that season saw the expansion to a 2-car team for 2003 I saw the opportunity to start a full time business closer to the team at the Gold Coast where I had many contacts and work prospects. I also started making paint masks for full size cars, doing all the masks for Simon Holgerson's Nasty Bug Drag Car (Supercharged Outlaws) enabling him to paint all the graphics and signage in the colors he wanted on the car and achieving a full gloss over the entire car which you don't get with vinyl signage, I then went on to help Simon crewing for team during the 2003 season in the sport I love, Drag Racing.
So from painting model cars, slot cars and R/C cars I got to spend time working on V8 Supercars, got to crew on a Drag Racing team and occasionally paint 1/25th scale Drag Slot Cars and 1/10th scale remote controlled Drag Cars. In 2007 I moved away from Motorsport and currently do more basic everyday signage and carry out signage work as a sub contractor mainly for 2 sign shops, I also do some sublimation on coffee mugs and t-shirts etc.